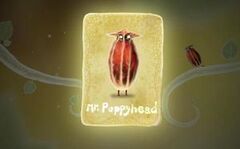 Mr Poppyhead is one of the main characters of the game. He is related to a creature/plant which has the ability to give off small glowing particles. He resides with his fellow creatures.
Mr Poppyhead is the most robust out of the group. With a slighty large body, he cannot fit into to small gaps very well, but is useful when something needs charging at, or needs to be pulled with force.
Ad blocker interference detected!
Wikia is a free-to-use site that makes money from advertising. We have a modified experience for viewers using ad blockers

Wikia is not accessible if you've made further modifications. Remove the custom ad blocker rule(s) and the page will load as expected.